Top Natural highlights in Turkmenistan
Natural highlights Turkmenistan's diverse landscape is home to a plethora of astounding natural attractions that are sprinkled all over the country. Some of these fascinating wonders wouldn't be out of place on another planet. Others are so ridiculously beautiful, you could stare at them all day. Trip Outlines Experience the magic – An Adventure that…
Overview
Trip Outline
Trip Includes
Trip Excludes
Gallery
Reviews
Booking
FAQ
Natural highlights
Turkmenistan's diverse landscape is home to a plethora of astounding natural attractions that are sprinkled all over the country. Some of these fascinating wonders wouldn't be out of place on another planet. Others are so ridiculously beautiful, you could stare at them all day.
Trip Outlines
Experience the magic – An Adventure that you'll never forget. Leaving behind the bustle of the city, our Safari Guide will transport you by ( 4×4 ) Four Wheel drive for a thrilling journey over dunes through the Garagum desert, deep in the heart of the Desert, from the crest of a high dune. watch the sunset its orange glow over the vast expanse of rippling sands all around you as it sets.
Koytendag valley - Dinosaur Plateau and Caves
Yangisuw canyons and Yangykala Canyons
White cliffs and the banks of the dried-up Uzboy River
Akhalteke horses - Proud of Turkmen nation
Damla desert semi-nomadic settlement
Darwaza Gas Crater - "The gate to Hell"
Travel by train.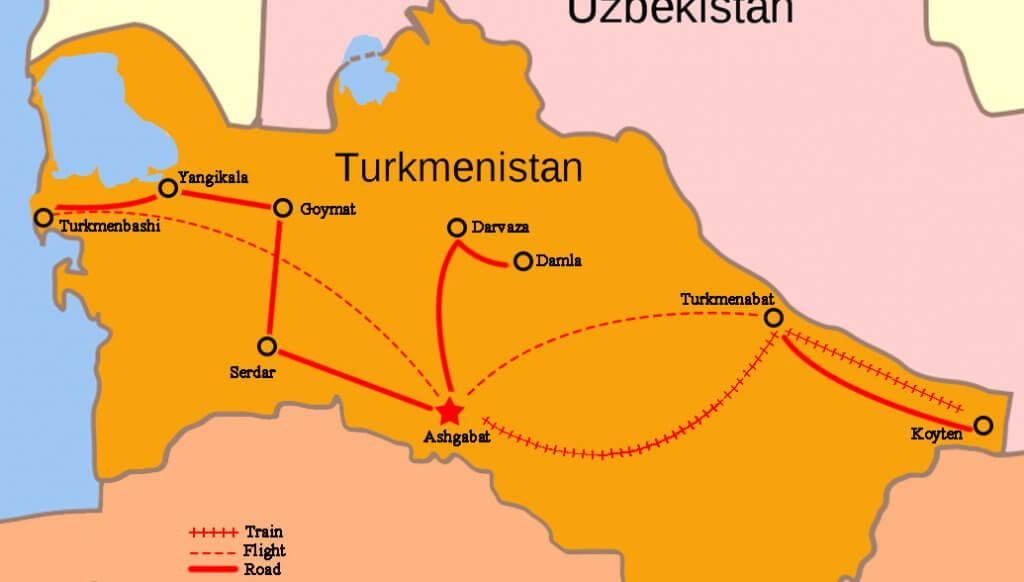 No details found.
Itineraries
Day 1
Ashgabat
Arrival in Ashgabat International airport. You will be met by our representatives and transfer to hotel. Free time.
Day 2
Ashgabat – Amyderya (B)
Bf at hotel. You will have Ashgabat city tour. You will see Presidential Palace, Ruhyyet Palace, Wedding Palace, modern "Yildyz" Hotel, Ferries Wheel, Constitution Monument, Arch of Neutrality, Monument and park of Independence, Ertogrul Gazy Mosque, Ashgabat 2017 Sports and Housing facilities.
Transfer to railway station at 18:00 to travel to Amyderya (17h).
Day 3
Amyderya – Koyten (B)
On the way, you will have view of one of the largest river Amyderya and sand dunes. Arrival in Amyderya and transfer to Koyten rest house. Overnight in Koyten.
Day 4
Koyten (B)
BF at Koytendag rest center. Morning drive to the Koytendag valley to visit the Dinosaur Plateau. The formation process of Dinosaur Plateau is described as follows: about 145-150 million years ago, at the end of the Jurassic period, there existed a shallow lagoon bottom – one of the habitats of huge dinosaurs. Drive to "Kyrk Gyz" Cave. Kyrk Gyz Cave means "Forty Girls' Cave", a name that refers to a local legend of forty girls who once retreated there, in order to avoid rape and murder by bandits. Drive to Umberdere waterfall. Overnight at Koytendag rest center.
Day 5
Koyten – Turkmenabat (B)
BF at Koytendag rest center. Drive to Turkmenabat. On the way, we visit Kaynar-Baba Lake and short stops at Astanababa Mausoleum, and Kerki district, which is famous with fish from Amudarya River.
Overnight in Turkmenabat.
Day 6
Turkmenabat – Ashgabat (B)
BF at Hotel. Morning transfer to airport for flight to Ashgabat. Drive to visit Nissa fortress -the Sanctuary of Parthian Kings. UNESCO declared fortress a World Heritage Site in 2007. Nissa described as one of the first capitals of the Parthians. It was founded by Arsaces I (reigned c. 250 BC – 211BC), and reputedly the royal necropolis of the Parthian Kings, although it has neither been established that the fortress at Nissa was a royal residence or a mausoleum.
Drive to visit Turkmenbashy Ruhy Mosque in Kipchak (the largest mosque in Central Asia).
Overnight in Ashgabat.
Day 7
Ashgabat – Turkmenbashi (B)
BF at Hotel. Morning transfer to Ashgabat airport for flight to Turkmenbashi.
Arrival in Turkmenbashi and transfer to Awaza resort center. Free time.
Overnight in Awaza.
Day 8
Turkmenbashi – Yangisuw – Yangikala – Gozli ata (BLD)
BF at hotel. Then drive to Yangisuw canyons and Yangykala Canyons, one of the scenic natural objects of Turkmenistan. The word expression "yangy kala" translates from Turkmen as "fire fortress". Indeed, the sheer cliffs of white, yellow, ocher, purple and red colors, fancily carved by winds and rains, are very similar to the stone castles from a fantasy. Explore the Canyons.
Then drive to Gozli ata pilgrim house.
Day 9
Gozli ata – Kemal ata – Goymat (BLD)
BF at pilgrim house. Drive to Kemal ata. Explore lots of shaped rocks. Drive to the white cliffs of Goymat. Overnight at tents.
Day 10
Goymat – Serdar (BL)
Picnic style breakfast. Travel along the white cliffs and the banks of the dried-up Uzboy River to Serdar Town. Overnight in motel.
Day 11
Serdar – Nohur – Kowata – Gokdepe – Ashgabat (B)
BF at motel. Then drive to Nokhur mountain village. The village itself fills a small depression valley in the mountains of the Kopet Dag Range, and the houses are built with local boulders cemented with mud. Apart from the main street through the middle of the town, the streets are so narrow that they only just fit a car between the high stone retaining walls on each side.The Nohkuri people who populate this remote mountain village are quite different to other Turkmen tribes. They live in a handful of villages in the mountainous border area spanning Turkmenistan and Iran. Nokhur is the largest village with just a thousand or maybe two thousand people.
Drive to Kowata underground lake which is located 107 km from Ashgabat. The Turkmen name Kow-Ata means "father of caves". This underground area seems like a magnificent auditorium: the overall length of the cave is 230 m, its height reaches 20 m, and its width is at some points 57 m. The bottom of the cave is covered with lumps of dissolved limestone (stalagmites), and its warm and gushing water is clear and emerald colored. The water has a constant temperature of 33-37°C. (You should swim in the lake).
After drive to Gokdepe fortress that was attacked in December 1880 by Russian Empire Army. The siege of Gokdepe lasted 23 days, after which the city was taken by storm. Visit Geokdepe Mosque (Saparmyrat Hajy) that was built in 1995 to commemorate the defeat and is noted for its mint-turquoise blue colored roof and white marble structure.
Later drive to visit Horse Farm to see a national proud of Turkmen people - Akhalteke horses, the nicest horses in the world. 5000 years ago, Turkmens begin breed Akhalteke horses. The World's unique breed was never mixed with other breeds. Such illustrious Emperors like Alexander the Great, Darius I desired to own Ahalteke horses. There are over 35 beautiful horses in the farm. Per superstition, every sick person who touches an Ahalteke horse will get well soon.
Overnight at Hotel.
Day 12
Ashgabat – Damla – Darwaza (BLD)
Bf at hotel. Early departure for overnight trip to Karakum desert; after 2 hours on tarmac road, drive off-road to Damla desert semi-nomadic settlement; and further off-road to Darvaza gas crater located in the middle of Karakum desert. Arrive at the crater, set up the camp. Enjoy a delicious fire-cooked meal for dinner near the burning gas crater. Overnight in tents.
Day 13
Darwaza – Ashgabat (B)
Picnic style breakfast. Drive back to Ashgabat. Transfer to a hotel. Free time.
Overnight in Ashgabat.
Day 14
Departure (B)
BF at hotel. Transfer to Ashgabat International airport.
Letter of Invitation
Registration in Ashgabat city
Accommodation in DBL/Twin room :
Grand Turkmen hotel 4* - 4 nights
Koyten rest house – 2 nights
Jeyhun hotel 3* - 1 night
Mary hotel 5* - 1 night
Seyrana hotel 4* - 1 night
Gozli ata pilgrim house – 1 night
Chynar motel – 1 night
Tent stay – 2 nights
Escort English speaking guide service
Transportation throughout the tour
Flight ticket: Turkmenabat – Ashgabat, Ashgabat – Turkmenbashi
Train ticket: Ashgabat - Amyderya
Entrance fee: Nisa Fortress, horse farm, underground lake
Meals: per program
1.5 L water per person per day
International flights
Cost of Turkmen visa w/border fees
Payment for photo and video
Tips for guide and driver
Medical insurance
Services not shown in the program
Travel tax: 2 usd per person per night