Amazing 7 days in Turkmenistan
Tour operates: March until November Duration: 6 nights 7 days Destinations: Ashgabat – Mary – Merv – Darwaza – Kunyaurgench – Dashoguz – Kowata – Gokdepe Transport: Private air conditioned transport, economy class domestic flights Accommodations: All comfortable class accommodation with private facilities Guides: Fully escorted by our English speaking guides in each country Tour starting point: Ashgabat  Ends: Ashgabat Day 1: Ashgabat Arrival…
Overview
Trip Outline
Trip Includes
Trip Excludes
Gallery
Reviews
Booking
FAQ
Tour operates:
 March until November
Duration:
 6 nights 7 days
Destinations: 
Ashgabat – Mary – Merv – Darwaza – Kunyaurgench – Dashoguz – Kowata - Gokdepe
Transport:
 Private air conditioned transport, economy class domestic flights
Accommodations:
 All comfortable class accommodation with private facilities
Guides:
 Fully escorted by our English speaking guides in each country
Tour starting point: 
Ashgabat  
Ends: 
Ashgabat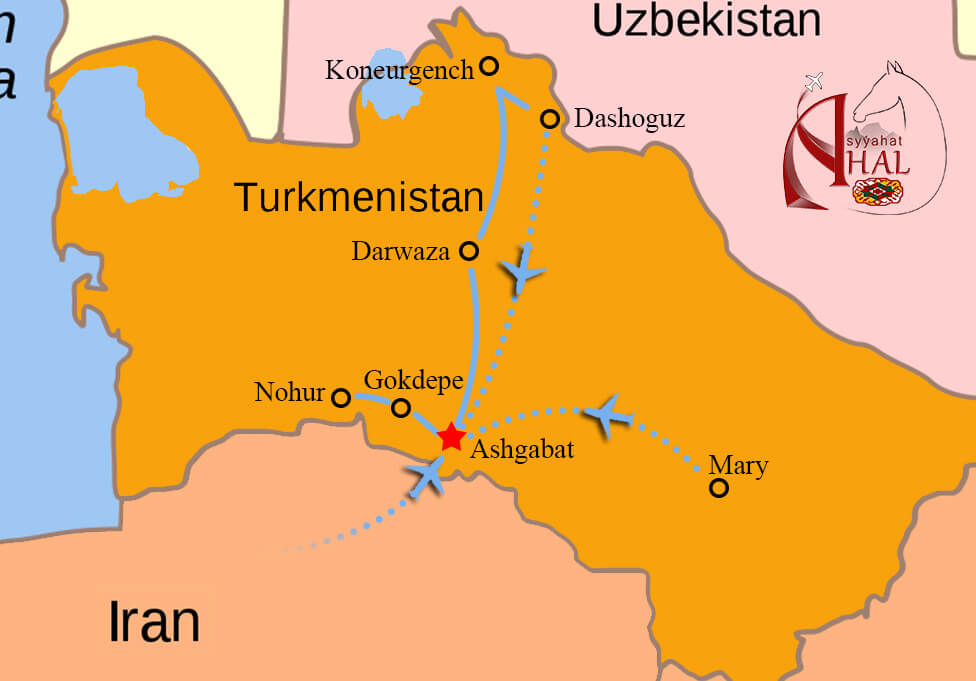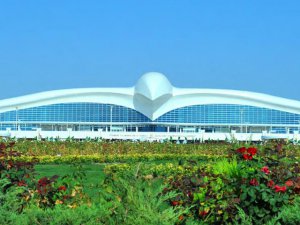 Day 1: Ashgabat
Arrival in
Ashgabat International airport
. You will be met by our representatives and transfer to hotel. Free time.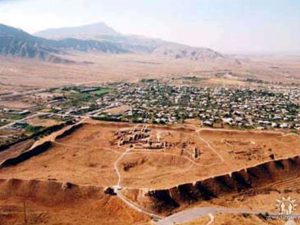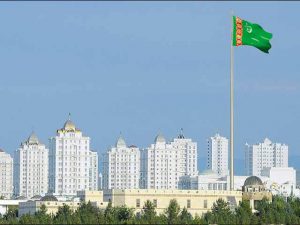 Day 2: Ashgabat
BF at Hotel. Morning drive to visit
Nissa fortress
-the Sanctuary of Parthian Kings. UNESCO declared fortress a World Heritage Site in 2007. Nissa described as one of the first capitals of the Parthians. It was founded by Arsaces I (reigned c. 250 BC – 211BC), and reputedly the royal necropolis of the Parthian Kings, although it has neither been established that the fortress at Nissa was a royal residence or a mausoleum. The ruins of ancient settlement Nissa are located 18 km from Ashgabat at Bagyr village. Drive to visit
Turkmenbashy Ruhy Mosque
in Kipchak (the largest mosque in Central Asia). Then you will have Ashgabat city tour. You will see
Presidential
Palace,
Ruhyyet Palace, Wedding Palace, modern "Yildyz" Hotel, Ferries Wheel, Constitution Monument, Arch of Neutrality, Monument and park of Independence, Ertogrul Gazy Mosque, Ashgabat 2017 Sports and Housing facilities
. Overnight at a hotel.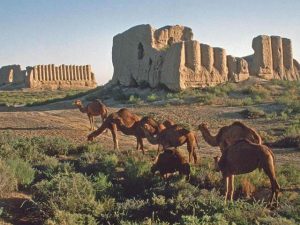 Day 3: Ashgabat – Mary – Merv – Ashgabat
BF at hotel. Morning transfer to Ashgabat domestic airport for morning flight to Mary. Arrive in Mary. Drive to Merv to explore
ancient Merv
– "Queen of the world", was one of the most important capitals of Islam along with Baghdad, Cairo and Damascus. Sightseeing of ancient Merv includes Greater Kyz Gala & Lesser Kyz Gala (VI-VII), Complex of Askhabs (VIII-XIV), Erk Gala (VI BC), Gyaur Gala (IV BC), Hoja Yusup Hamadani complex, Sultan Sanjar mausoleum, Muhamed Ibn Zeid mausoleum. After sightseeing transfer to Mary airport for back flight to Ashgabat. Arrival in Ashgabat. Accommodation & overnight at a hotel.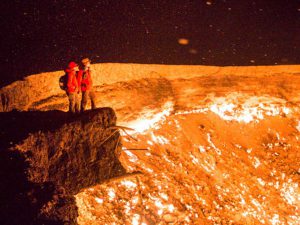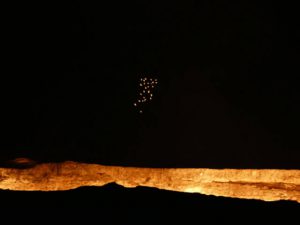 Day 4: Ashgabat - Darvaza
BF at hotel. Free time. Afternoon drive to Darwaza burning
Gas Crater
(268km) dubbed by locals as "The Door to Hell". The Darwaza area is rich in natural gas. While drilling in 1971, Soviet geologists tapped into a cavern filled with natural gas. The ground beneath the drilling rig collapsed, leaving a large hole with a diameter of 70 meters. To avoid poisonous gas discharge, it was decided the best solution was to burn it off. Geologists had hoped the fire would use all the fuel in a matter of days, but the gas is still burning today. En-route we cross Karakum desert, will make a stop in
small desert village Erbent.
In the evening watch the spectacular and fascinating view of the gas crater.
BBQ dinner at Gas Crater.
Overnight in camp.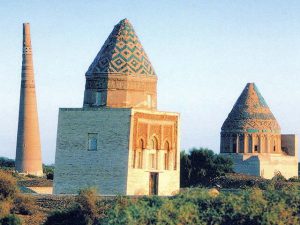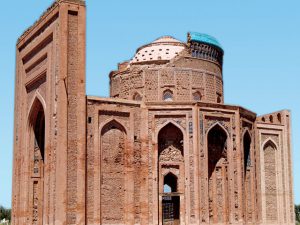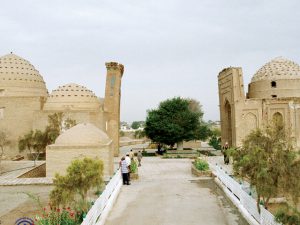 Day 5: Darvaza – Koneurgench – Dashoguz
Picnic style BF at Gas Crater. Morning drive to
Kunya Urgench
. Sightseeing tour in Kunya Urgench: visit Portal of Caravansaray, Mamun Minaret, II Arslan Mausoleum, Sultan Tekesh Mausoleum, Academy of Horezm, Kutlug Timur Minaret, Turabek Hanum Mausoleum. Then drive to Dashoguz city and accommodation & overnight at a hotel.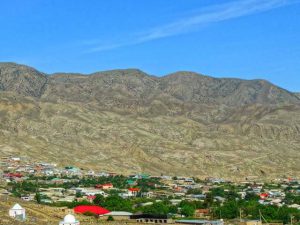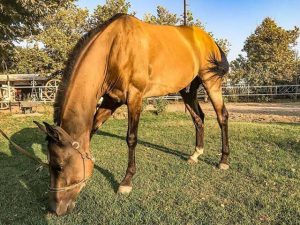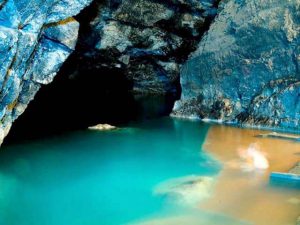 Day 6: Dashoguz – Ashgabat – Nohur - Kowata - Gokdepe - Ashgabat
BF at Hotel. Then transfer to Dashoguz airport for morning flight to Ashgabat. Arrival in Ashgabat and drive to
Nokhur mountain village
.
The village itself fills a small depression valley in the mountains of the Kopet Dag Range, and the houses are built with local boulders cemented with mud. Apart from the main street through the middle of the town, the streets are so narrow that they only just fit a car between the high stone retaining walls on each side.The Nohkuri people who populate this remote mountain village are quite different to other Turkmen tribes. They live in a handful of villages in the mountainous border area spanning Turkmenistan and Iran. Nokhur is the largest village with just a thousand or maybe two thousand people. Drive to
Kowata underground lake
which is located 107 km from Ashgabat. The Turkmen name Kow-Ata means "father of caves". This underground area seems like a magnificent auditorium: the overall length of the cave is 230 m, its height reaches 20 m, and its width is at some points 57 m. The bottom of the cave is covered with lumps of dissolved limestone (stalagmites), and its warm and gushing water is clear and emerald colored. The water has a constant temperature of 33-37°C. (You should swim in the lake). After drive to
Gokdepe fortress
that was attacked in December 1880 by Russian Empire Army. The siege of Gokdepe lasted 23 days, after which the city was taken by storm. Visit
Geokdepe Mosque
(Saparmyrat Hajy) that was built in 1995 to commemorate the defeat and is noted for its mint-turquoise blue colored roof and white marble structure. Later drive to visit
Horse Farm
to see a national proud of Turkmen people - Akhalteke horses, the nicest horses in the world. 5000 years ago, Turkmens begin breed Akhalteke horses. The World's unique breed was never mixed with other breeds. Such illustrious Emperors like Alexander the Great, Darius I desired to own Ahalteke horses. There are over 35 beautiful horses in the farm. Per superstition, every sick person who touches an Ahalteke horse will get well soon. Overnight at a hotel.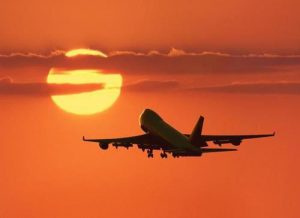 Day 7: Departure
BF at Hotel. Transfer to Ashgabat International airport.
Letter of invitation
Registration in Ashgabat city
Accommodation in rooms:
Tent stay in Darwaza – 1 night
Transportation throughout the tour
Flight ticket: Ashgabat - Mary – Ashgabat, Dashoguz - Ashgabat
Escort English speaking guide service
Entrance tickets to Nissa fortress, KunyaUrgench and Merv sites, Kowata underground lake, horse farm
Meals: BBQ Dinner & BF at Gas Crater
1,5 L water per person per day
International flights
Cost of Turkmen visa & border fees
Early check in at hotels
Payment for photo and video
Tips for guide and driver
Medical insurance
Meals: L, D
Services not shown in the program
Travel Tax: 2 usd per person per night (You should pay cash at hotel)