Tour operates: March until November No. of days: 12 nights 11 days Destinations: Ashgabat – Gas Crater – KunyaUrgench– Khiva – Bukhara – Shakhrisabz – Samarkand – Tashkent Transport: Private air conditioned transport, economy class domestic flights Accommodations: All comfortable class accommodation with private facilities Guides: Fully escorted by our English speaking guides in each country Tour starting point: Ashgabat or vice versa…
Overview
Trip Outline
Trip Includes
Trip Excludes
Gallery
Reviews
Booking
FAQ
Tour operates:
 March until November
No. of days:
 12 nights 11 days
Destinations: 
Ashgabat – Gas Crater – KunyaUrgench– Khiva – Bukhara – Shakhrisabz – Samarkand – Tashkent
Transport:
 Private air conditioned transport, economy class domestic flights
Accommodations:
 All comfortable class accommodation with private facilities
Guides:
 Fully escorted by our English speaking guides in each country
Tour starting point: 
Ashgabat or vice versa
Ends: 
Tashkent or vice versa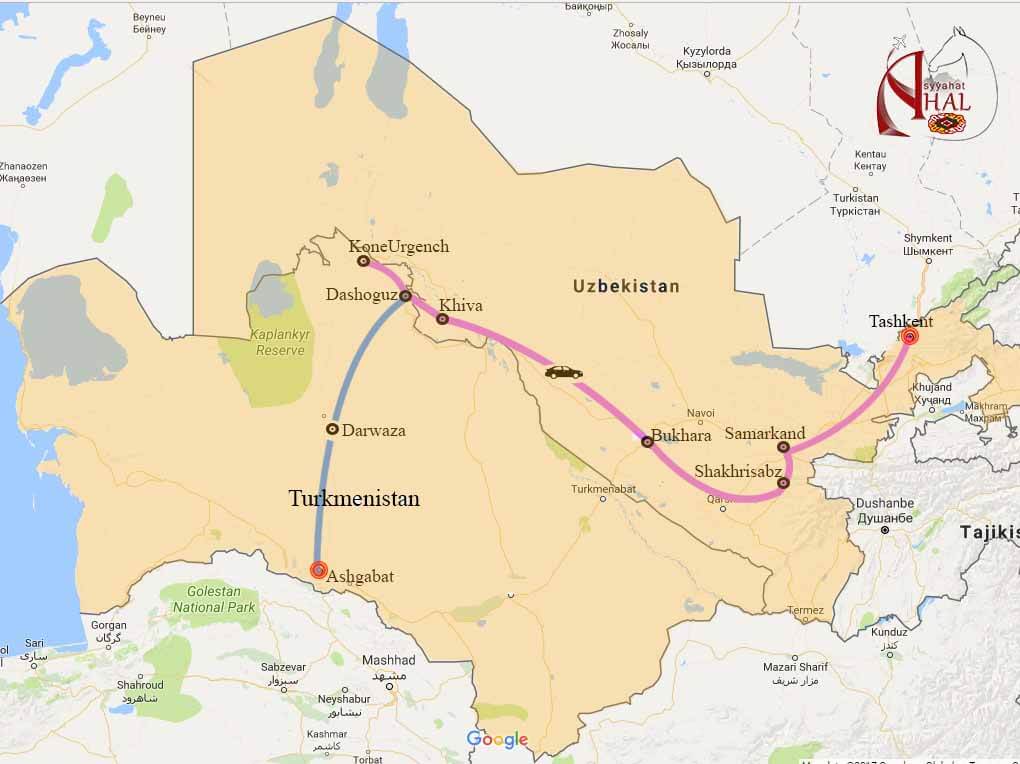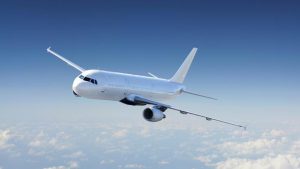 Day 0 (Sun.): Departure to Ashgabat
Departure to Ashgabat by flight TK 322 at 21:25 or TK 324 at 23:35.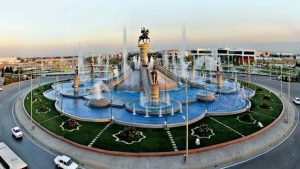 Day 1 (Mon.): Ashgabat - arrival
Arrival to Ashgabat at 04:00 or 06:10. Meeting at the Airport in Ashgabat. Transfer to the hotel. Check in and overnight at the hotel. Free time for rest after a long flight.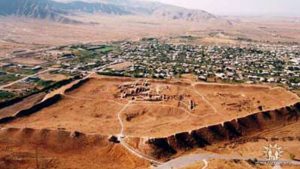 Day 2 (Tue.): Ashgabat
BF at Hotel. Morning drive to visit
Nissa fortress
-the Sanctuary of Parthian Kings. UNESCO declared fortress a World Heritage Site in 2007. Nissa described as one of the first capitals of the Parthians. It was founded by Arsaces I (reigned c. 250 BC – 211BC), and reputedly the royal necropolis of the Parthian Kings, although it has neither been established that the fortress at Nissa was a royal residence or a mausoleum. Drive to visit
Turkmenbashy Ruhy Mosque
in Kipchak (the largest mosque in Central Asia). Afternoon you will have Ashgabat city tour. You will see
Presidential
Palace,
Ruhyyet Palace, Wedding Palace, modern "Yildyz" Hotel, Ferries Wheel, Constitution Monument, Arch of Neutrality, Monument and park of Independence, Ertogrul Gazy Mosque, Ashgabat 2017 Sports and Housing facilities
. Overnight at the hotel.
Day 3 (Wed.): Ashgabat - Darwaza
BF at hotel. Free time. Afternoon drive to Darwaza burning
Gas Crater
(268km) dubbed by locals as "The Door to Hell". The Darwaza area is rich in natural gas. While drilling in 1971, Soviet geologists tapped into a cavern filled with natural gas. The ground beneath the drilling rig collapsed, leaving a large hole with a diameter of 70 meters. To avoid poisonous gas discharge, it was decided the best solution was to burn it off. Geologists had hoped the fire would use all the fuel in a matter of days, but the gas is still burning today. En-route we cross Karakum desert, will make a stop in
small desert village Erbent.
In the evening watch the spectacular and fascinating view of the gas crater.
BBQ dinner at Gas Crater.
Overnight in camp.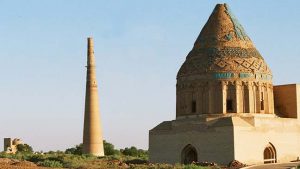 Day 4 (Thu.): Darwaza - Kunya Urgench - border point Dashoguz - Khiva
Picnic style BF at Gas Crater. Morning drive to
Kunya Urgench
. Sightseeing tour in Kunya Urgench: visit Portal of Caravansaray, Mamun Minaret, II Arslan Mausoleum, Sultan Tekesh Mausoleum, Academy of Horezm, Kutlug Timur Minaret, Turabek Hanum Mausoleum. Then drive to Dashoguz. Arrival in
Dashoguz
. Transfer to Turkmenistan-Uzbekistan border point. Border formalities on both sides. On Uzbekistan side meet the driver and drive to Khiva - the only "Museum under the open sky" in Central Asia that has been completely preserved up to the present day. Arrival to Khiva, check in to the hotel, located inside or nearby Ichan-Qala - the historical center of Khiva which has been inscribed into the UNESCO World Heritage List. Overnight at the hotel.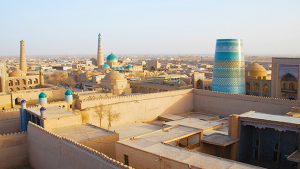 Day 5 (Fri.): Khiva
Breakfast in the hotel. City tour around the architectural complex Ichan-Qala (12-19
th
 cc.). Ensemble consists of the smallest madrassah in Khiva and a minaret whose top platform has a height of 45m and is the highest observation point in town. Free time. Sightseeing you explore this day:
Kunya-Ark;
Kalta-Minor Minaret;
Madrassah of Muhammad Amin-khan;
Djuma Mosque and Minaret;
Ak-Mosque;
Necropolis of Pakhlavan Makhmud;
Islam-Khodja Madrassah and Minaret.
Overnight in Khiva.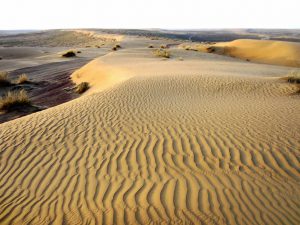 Day 6 (Sat.): Khiva - Bukhara
Breakfast. Coach trip to Bukhara via Kizil-Kum desert along Caravan road (480 km, 5-7 hrs). Arrival to Sacred Bukhara - one of the most esteemed cities of Islamic civilization. Hotel accommodation. Free time for rest and walking through the old streets of Bukhara. One of the "1000 and 1 nights" in Bukhara.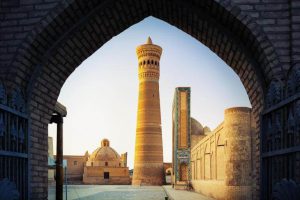 Day 7 (Sun.): Bukhara
Breakfast. City tour. Sightseeing you explore this day:
Ark fortress;
Mausoleum of the Samanids;
Chasma-Ayub Mazar;
Poi-Kalyan ensemble;
Magoki-Attari Mosque;
Lyabi-Hauz ensemble;
1st, 2nd & 3rd Trade Domes;
Ulugbek Madrassah;
Chor-Minor Madrassah;
Catholic Church.
Overnight in a quiet and cozy Bukhara hotel.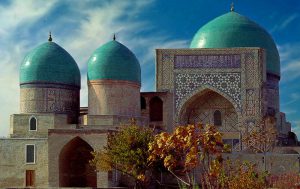 Day 8 (Mon.): Bukhara - Shakhrisabz - Samarkand
Breakfast. Transfer to Samarkand via Shakhrisabz - a unique monument of town-planning and architecture (270 km, 3.5 hrs). Shakhrisabz tour. The Golden Road to the historical town of Samarkand - a crossroad of the world's cultures, one of the most ancient cities in the world (90 km, 1.5 hrs). Hotel accommodation and free time. Sightseeing you explore this day:
Ak-Saray palace;
Kok Gumbaz Mosque.
Overnight in the city that is a contemporary of ancient Rome and has a history of more than 2500-years.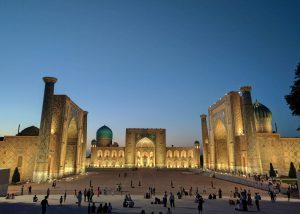 Day 9 (Tue.): Samarkand
Breakfast. City tour. Sightseeing you explore this day:
Gur-Emir Mausoleum;
Registan Square;
Bibi-Khanym Mosque;
Shahi-Zinda necropolis;
Siab bazaar.
Overnight in the capital of Tamerlane's Empire.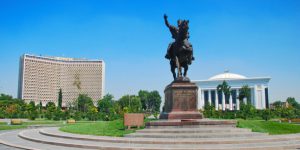 Day 10 (Wed.): Samarkand - Tashkent
Breakfast. Drive to Tashkent (315 km, 5 hrs). Arrival to Tashkent at 11:25. City tour. Sightseeing you explore this day:
Ulugbek Observatory;
The architectural complex Khazret-Imam;
Barak-khan Madrassah;
Tellya Sheikh Madrassah;
Kukeldash Madrassah;
Jami Mosque;
Chorsu - oriental bazaar;
Abdulkasim Madrassah.
New Tashkent Television Tower;
Memorial to the Victims of Repression;
Monument of Courage.
Overnight in Tashkent.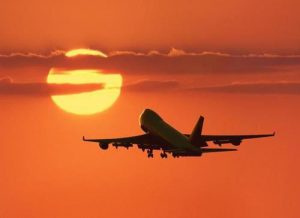 Day 11 (Thu.): Tashkent
Early transfer to Tashkent Airport for morning flight to Istanbul (TK 371 at 04:20). Depart Uzbekistan with sweet memories and the longing to return again!
We hope you like the program and assure you that we are absolutely open to any suggestions to increase the range of our services for the complete satisfaction of our clients and are happy to meet your special requirements.
You can alter the duration of your tour and places of visit by adding one of our 
extensions
. Our 
tour operator
 will work closely with you or your travel agent to carefully prepare an itinerary based on your stated interests.
• Letter of invitation • Registration in Ashgabat city • Tent stay in Darwaza – 1 night • Transportation throughout the tour • Escort English speaking guide service • Meals: BBQ Dinner & BF at Gas Crater • 1,5 L water per person per day
• International flights • Cost of Turkmen visa & border fees • Payment for photo and video • Tips for guide and driver • Medical insurance • Meals: L, D • Services not shown in the program